Great news for the
Tampa-St. Petersburg-Clearwater
area!! For the ultimate in versatility, consider our exciting new line of
Retractable Roof Systems
from
Sunesta
. Made with the same durability and strength as our top quality retractable awnings, these
retractable roofs
can provide on-demand shade and rain protection at the touch of a button. Perfect for
patios, bars, recreational areas, and outdoor seating and dining
, our
ShadeSpot
and
SunCover
products can provide the perfect solution to your sun and weather protection challenges.
The "ShadeSpot" Retractable Canopy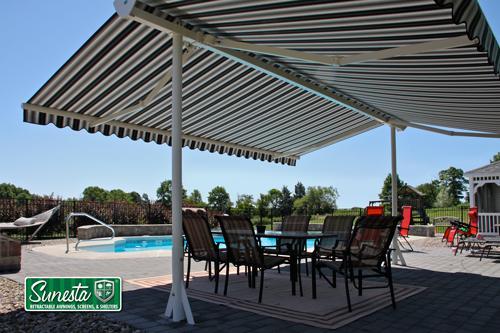 This innovative new design provides the convenience and utility of a retractable awning in a free-standing double-sided retractable canopy. Now you can cover an area up to 600 square feet with the touch of a button!
Because it is a free-standing structural system, the ShadeSpot can be installed virtually anywhere. With multiple post and base options for mounting, your deck, patio, or even an open grass area can reap the benefits afforded by this amazing new retractable roof design.
Made with the same rugged components that make up our top-of-the-line Sunesta retractable awning, the ShadeSpot can span 29 feet 4 inches and comes in widths up to 23 feet. This retractable canopy is covered by a 5 Year Limited Warranty on both the frame and wireless remote-controlled Somfy motor and a 10 Year Limited Warranty on the acrylic canvas fabric. Its one-piece extruded aluminum hood protects the fabric from dirt and debris when the unit is retracted and gives the retracted ShadeSpot a clean, finished look.
Available in a classic white powder coated frame and over 190 acrylic canvas colors and patterns, the ShadeSpot retractable roof can be customized to complement your personal style or outdoor atmosphere. There is even an option for a vertical drop valance that descends silently from the front bar of the canopy to provide even more shade protection for you and your guests. This sleek and useful option can be motorized for the ultimate in convenience or operated by a simple manual hand crank.
Download the
Brochure
and Call us today to find out more about the ShadeSpot!
The "SunPlus" Retractable Roof System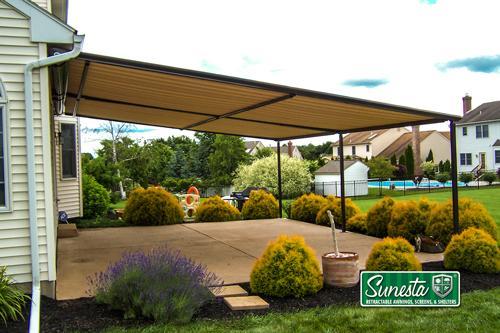 The SunCover or SunPlus is another new retractable roofing product that we are excited to offer our customers. Both commercial and residential customers can utilize this advanced new sun and rain protection system. With a rigid subframe, the SunPlus's fabric roof can be kept under constant tension allowing rainwater to run safely into its ingenious edge guttering system.
The SunPlus can also withstand much higher wind loads than its fabric roof competitors due to its belt driven tension system and rugged design. With an extruded aluminum wraparound case, the fabric is protected from damage and dirt when not in use, so your SunCover is both attractive and functional each time you use it.
For restaurants with outdoor dining, the SunPlus is a perfect solution to changing weather conditions. When it is beautiful and comfortable outside, your patio can be left uncovered and open and when inclement weather or oppressive heat begins to threaten, the SunPlus protects your patio guests from the elements with the touch of a button. To get the most out of your outdoor dining and living areas, you need the versatility and adaptability of the SunCover and SunPlus systems.
Download the
Brochure
and Call us today to find out more about the SunPlus!